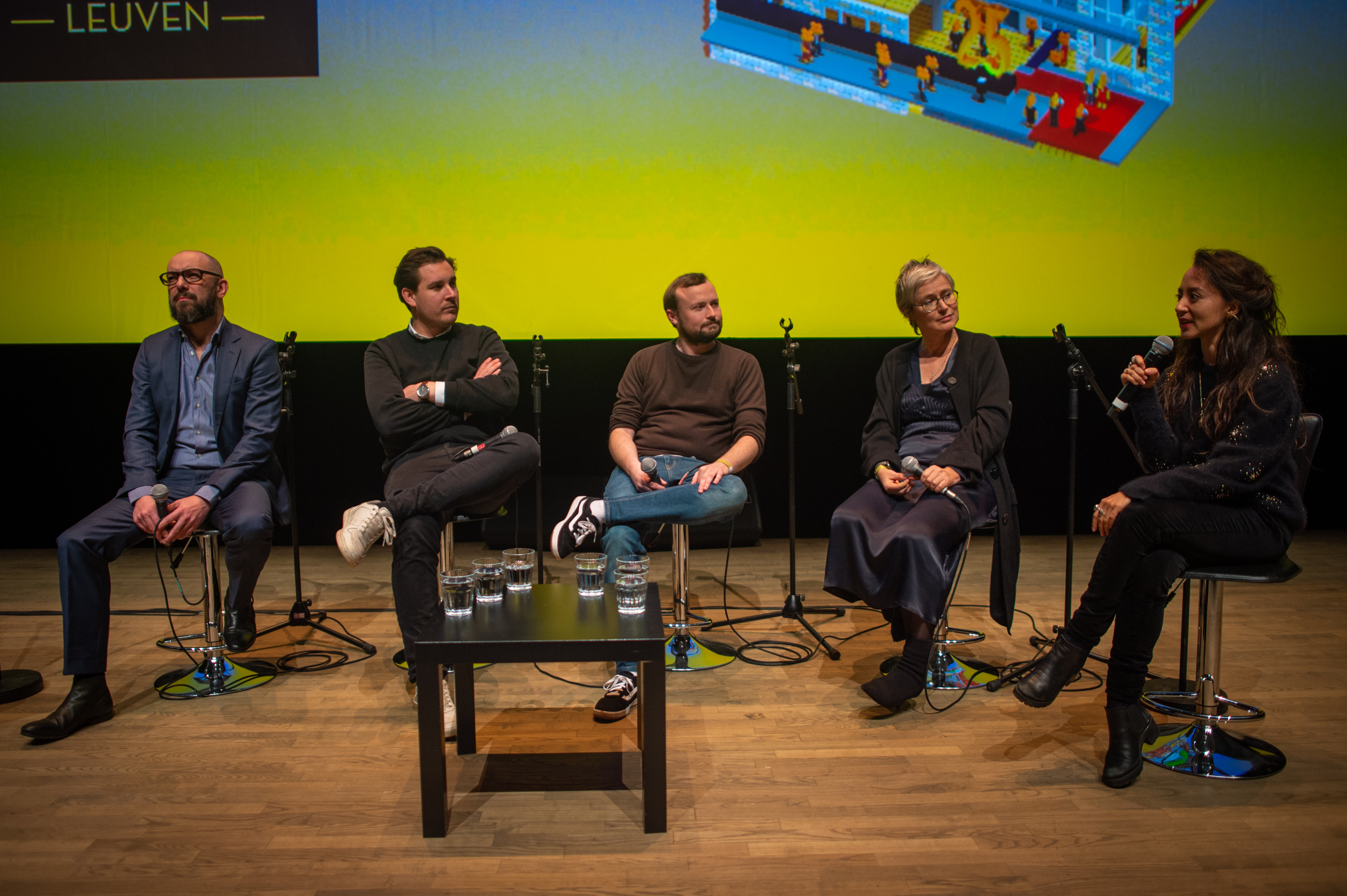 Professional Activities
Kortfilmfestival Leuven is much more than just film showings. A lot of filmmakers come down to the festival to have a conversation after their film, ánd there are a many activities for professionals and people with an exceptional interest in (short)film.
Master Talk: Marc James Roels
Fifteen years ago, director Marc James Roels first attended the festival with Mumbler, for which he received a Special Mention of Jury. Two years later he came back with the harsh film A Gentle Creature, which received the Jury Award. A somewhat unexpected switch to animation followed, when he started working with his partner Emma De Swaef. The ensuing track record is nothing short of impressive: Oh Willy became the most awarded Flemish short film ever, Ce magnifique gâteau won the Grand Prix in Clermont-Ferrand, and the duo is currently conquering Netflix with the masterpiece The House. A conversation about the wonderful roads short film can lead to.
Guests: Marc James Roels
Masterclass: Road to the Oscars with Martin Strange-Hansen
Martin Strange-Hansen made immediately a great impression with his graduation film in 2001, winning not only the Best Short Film Award at Odense Filmfest, but also the Student Oscar. Two more Oscar nominations and one Oscar would follow. A master class from an inspiring director who considers short films not so much as a stepping stone to a full-length feature, but as a fully-fledged and valuable film form.
Guests: Martin Strange-Hansen
Festival Brunch
A film festival is the perfect meeting place for filmmakers and the audience. On the last day, the festival organises a delicious brunch where directors, the audience and the festival team can meet over a nice cup of coffee.
The Yin and Yang of Short Film Storytelling
Professor Richard Raskin, born in the US but affiliated with the Danish University of Arhus since 1983, has been researching the uniqueness of short film for more than 50 years. His latest book, The Yin and Yang of Short Film Storytelling, confirms him as the leading contemporary researcher in short film theory, technique and strategies. In his book, he applies his paradigm to ten short films, five of which are shown in full in this programme, each time accompanied by a pre-recorded commentary by Prof Raskin. A wildly fascinating exploration of short film theory.
The book The Yin and Yang of Short Film Storytelling can be purchased at the festival desk.
Many thanks to
Prof. Richard Raskin
---
Pitch Your Script
Ten short film scripts were selected for a class in pitching. Time to practice for real and pitch ideas to an audience and a professional jury. Afterwards, the selected screenwriters go on a speed date with ten producers.
The pitch is open to the public and free of charge.

>> Free admission
Sat 10/12 (15h00)
Many thanks to
Prof. Richard Raskin
---
Sabam Pitch
SABAM for Culture has been committed to the promotion, development and protection of a broad audiovisual repertoire, sponsoring directors and short films directly through a development grant every year. Filmmakers who want to be considered for this grant, pitch their film to a Sabam Jury.
The pitch is open to the public and free of charge.
>> Free admission
Mon 05/12 (15h00)
Many thanks to
Prof. Richard Raskin
---